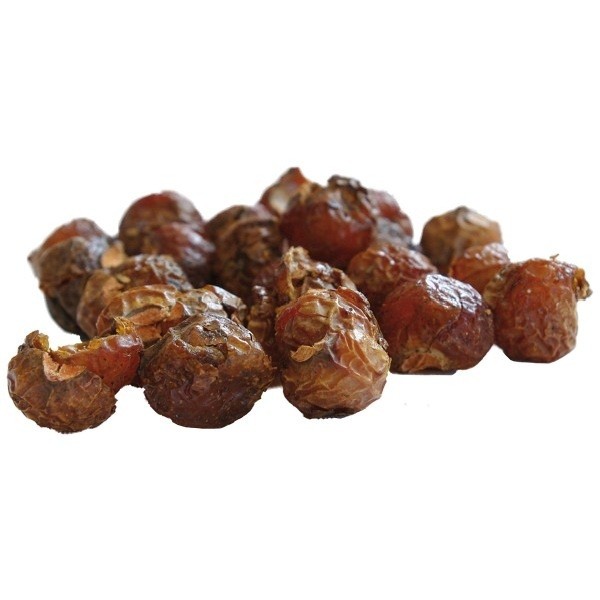 Indian Soap nuts or soap berries
Indian Soap nuts or soapnuts contain 100% natural saponins (vegetable glycoside). These substances, which are naturally present in the wash note, form a soapy solution in water with an unsurpassed washing power.
The large Soap nut tree comes from the Himalayan region near northern India and Nepal. The skin of the Soap nuts (Sapindus Mukorossi) has been used by the local population for centuries as a detergent for washing without detergent of cotton, wool and silk. 
The tree has a beneficial effect on the deforestation of the lower 900 m of the Western Himalayas. The soil becomes more fertile and both nuts and shell act as natural fertilizers, purifying contaminated soil.


The advantages of Soapnuts
- Soapnuts or wash nuts are cheap to use; 1-3 times usable.
- 100% biodegradable; the used wash nuts can be put on the compost heap or in the green container after use.
- No fabric softener needed; possibly softener user in hard water. The laundry feels pleasantly soft after washing as if fabric softener has been used.
- No allergy; 100% natural without chemical additives. This makes it suitable for people with allergies, neurodermatitis and sensitive skin.
- Soap nuts are environmentally friendly; no more pollution of the surface water. Furthermore, the nuts grow on trees, which absorb carbon dioxide and supply oxygen.
- your washing machine lasts longer; the washing machine no longer suffers from caked residues as is the case with traditional detergents and fabric softeners.
- Protective; the nuts keep the colours brighter for longer compared to regular detergents. Even the finest silk can be washed with Soapnuts


Attention points Soapnuts
- Soap nuts are odourless, so make sure you have a clean washing machine by occasionally washing without wax and with soda at 95 degrees
- Any odours can be camouflaged by, for example, using essential oil (in fabric softener compartment or on laundry bag), e.g. lime or lavender
- Remove the bag of laundry nuts immediately after washing in order to avoid odours and possible stains (with lighter loads)
- Washing with laundry nuts is a bit more work than washing with regular detergent
- When washing with stains it is best to use stain salt (percarbonate) or bile soap.


I'm interested in nuts?

✔Already more than 8 years your reliable online Nature shop
✔More than 100,000 clients preceded you
✔All from own stock