It's time for a new recipe! Let's put the mushrooms in the spotlight! The new recipe is a delicious sauce to accompany rice. This is the Reishi mushroom sauce.
I must inform you that the portion is made for 1 or 2 people. It was really delicious and definitely worth a try! The Reishi mushroom powder is full of vitamins and minerals which is good for your body. This special mushroom has positive effects on the immune system and the ability to increase resistance. The reishi powder also contains antioxidants.
You will need the following ingredients: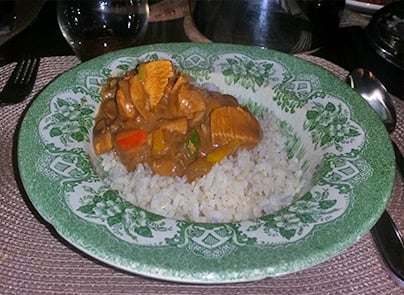 Ingredients:

- 150 grams chestnut mushrooms
- 150 to 200 grams of chicken
- 1 to 2 teaspoons garlic granulate
- Pinch of chilli powder
- 1 to 2 teaspoons chicken herbs or your own herbs for the chicken
- 1 sliced onion
- 5 tablespoons olive or coconut oil
- 30 to 40 grams of leeks
- 3 peppers needed (you only use 1/3 pepper of each colour: red, yellow and green)
- 4 to 5 large tablespoons of concentrated mushroom soup 
- 30 to 40 ml water
- 1 to 2 teaspoons reishi powder

Instructions 

Step 1: Dice the chicken and finely chop the garlic. Then put it in a bowl with 4 tablespoons of olive or coconut oil.
Step 2: Add the chicken herbs and a pinch of chilli powder to the tray. Leave it to stand for 5 minutes.
Step 3: You cook the rice according to the preparation method on the rice packaging.
Step 4: Then cut the rest of the vegetables: chestnut mushrooms, leek and paprika (1/3 red, 1/3 yellow and 1/3 green).
Step 5: Now set up a normal wok pan. Add 1 tablespoon of olive or coconut oil and let it get hot. Fry the chicken.
Step 6: After roasting the chicken, you can also add the other vegetables to the wok pan.
Step 7: Fry this for 5 minutes and then add 4 to 5 tablespoons of concentrated mushroom soup to the chicken and vegetables.
Step 8: Immediately after step 7, add a little water. Do this in steps and determine the thickness yourself.
Step 9: Then add the special reishi powder. Do this in steps.
Step 10: Stir it a little more and: Enjoy your meal!

Tips and tricks:
- Add the Reishi powder slowly in small steps. The travel ration powder has a strong taste.
- If you like it sharp, you can add a pinch of chili powder to the chicken.
- Don't want the concentrated mushroom soup in it? Then use cream fraiche, boursin or homemade white cream sauce.